Creativeworld is a product show and order platform. It is inspiring, lively and future oriented. On all four days of the fair, we showcase everything the creative heart desires: visitors can do handicrafts, paint, cut things out, design jewellery, practise gift-wrapping and hold discussions with colleagues.
'Creativeworld lives from its highly diverse event programme. Our visitors want to experience and test the latest products, try out current trends, and exchange views and ideas on industry-related topics.'
Concept area Urban Art Lab: Education
Everyone is talking about street art, a subject that offers the specialist trade a variety of ways to reach new target groups. Street art has made the leap from its humble beginnings to the museums of the world. And even into people's living rooms. Graffiti – behind the sofa, in the kitchen, on the garden wall or on the balcony wall – is now considered socially acceptable. Numerous manufacturers have identified this trend and are now offering new products and techniques. Moreover, manufacturers offer ways in which the subject of street art can be integrated into shops.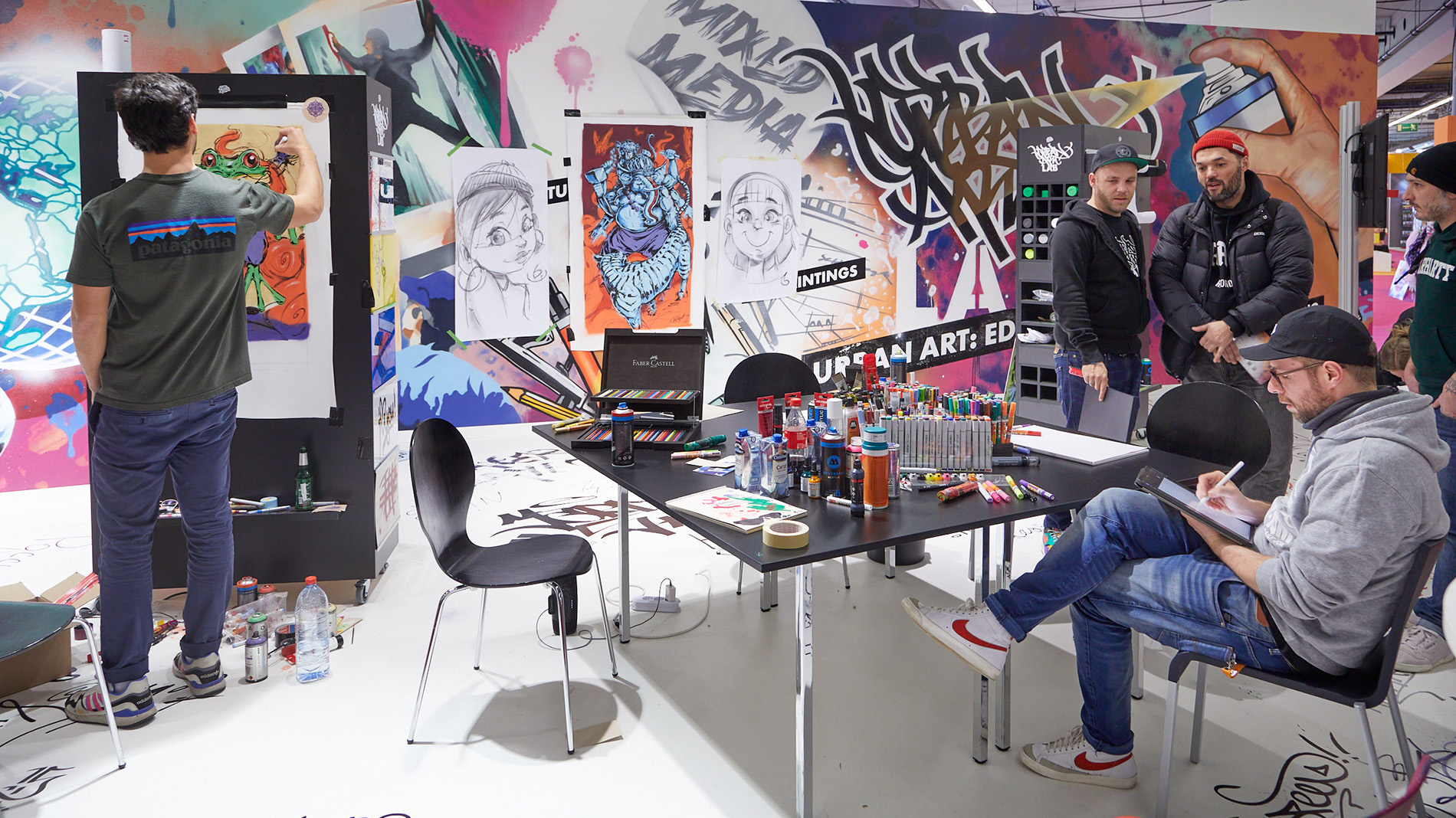 Review: Urban Art Lab 2020
'The art of graffiti is so varied that you can soon lose the overview: for example, is it better for me to use a paint marker or a graphic marker? Which products are suitable for different backgrounds? My team and I will be answering questions like this in the concept area at Creativeworld.'
The subject of urban art entered a new phase at Creativeworld with the focus on education in 2020. Together with Carlos Lorente of Style Scout – Graffiti Academy, this top theme was in preparation for the specialist trade. Retailers had the opportunity to learn about graffiti materials and techniques. In the concept area, knowledge were conveyed via various didactic tools, such as workbooks, tutorials and information pillars. In addition, internal training and workshop events were presented as methods for transferring knowledge and the diverse array of tools can be tried out under professional guidance.
This took into account the fact that special solutions are necessary for specialist retailers. For this reason, a variety of creative interactive islands were presented in the concept area. These showed how retailers can provide opportunities for interaction at the point of sale, because in order to inspire customers with the theme of urban art and graffiti, there need to be surfaces for trying things out, so that the retailer can present the new techniques.
Creative Impulse Award
The Creative Impulse Award is a firmly established feature at Creativeworld and the most important award worldwide in the hobby, crafts and artists' requisites industry. It will be awarded for the 16th time in 2021. Messe Frankfurt awards the coveted prize in cooperation with publishers bit-Verlag.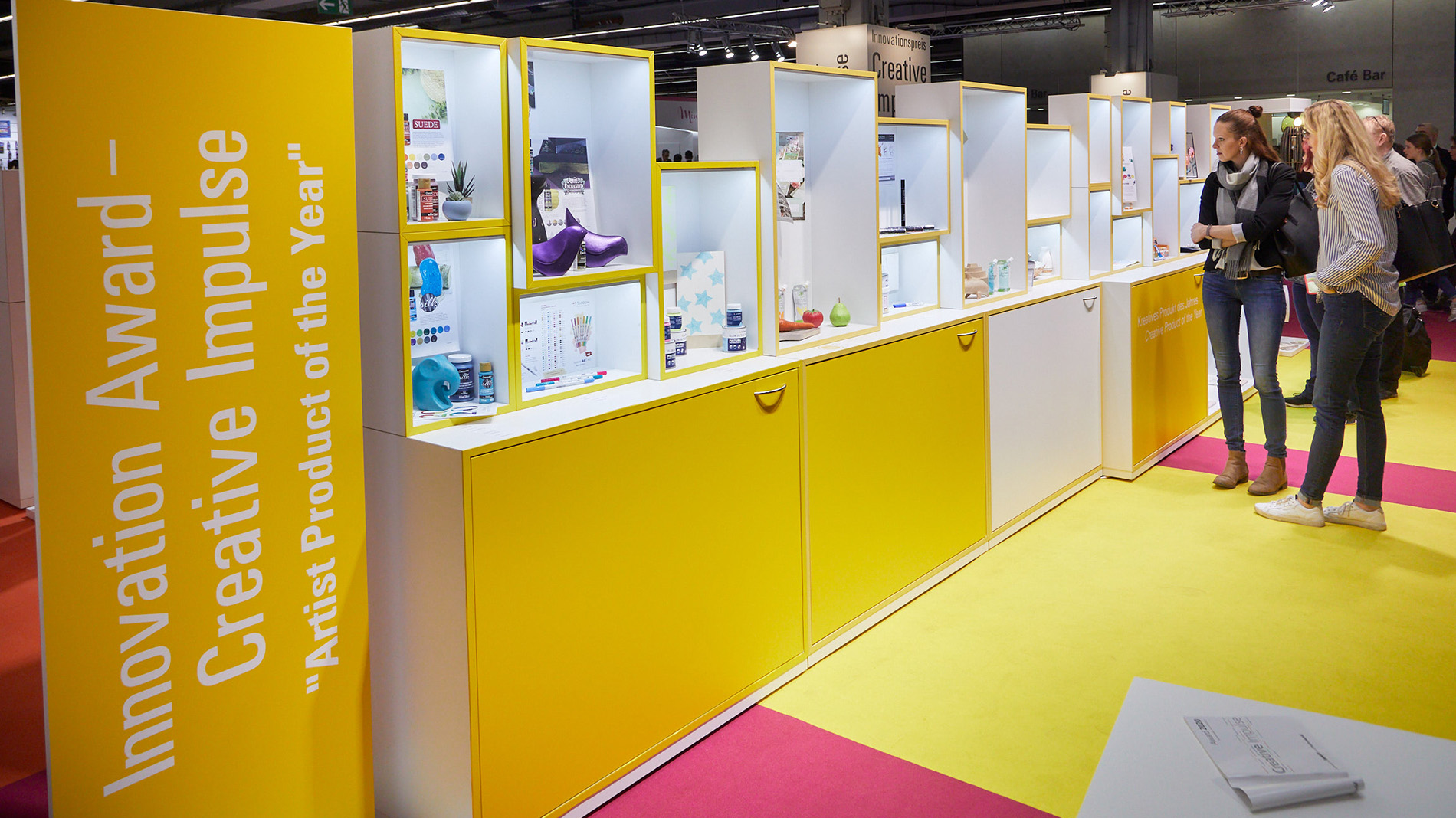 The award is presented for the following categories:·      
Creative Product of the Year
Creative Tool of the Year
Creative Kit of the Year
Creative Book of the Year
NEW: Artistic Product of the Year
In addition, there is the special prize "Sustainable Product". This prize is awarded to a product from all entries in the five categories that reduces packaging in an exemplary manner and proves to be particularly environmentally friendly due to its nature or use.
All entries will be staged in a high-profile special exhibition at Creativeworld stating the submitting company and its stand number.
Creativeworld Academy: Testing stage
Creativeworld Academy is where workshops and product demonstrations take place on all four exhibition days, and where you can try out new materials and techniques. From water-colour to glass engraving and resin art – here you can find out which issues are preoccupying the sector. DIY icon and TV host Martina Lammel will take visitors through the programme.
Visitors can try out the exhibitors' innovations directly with professional instruction. The detailed programme can be found here from the beginning of January 2021.
'The workshops are received by the trade audience with great enthusiasm. The new products and materials are able to leave a far greater impression with a practical demonstration rather than a simple presentation on the exhibition stand.'
111 Creativeworld exhibitors donate craft materials to children's and youth organisations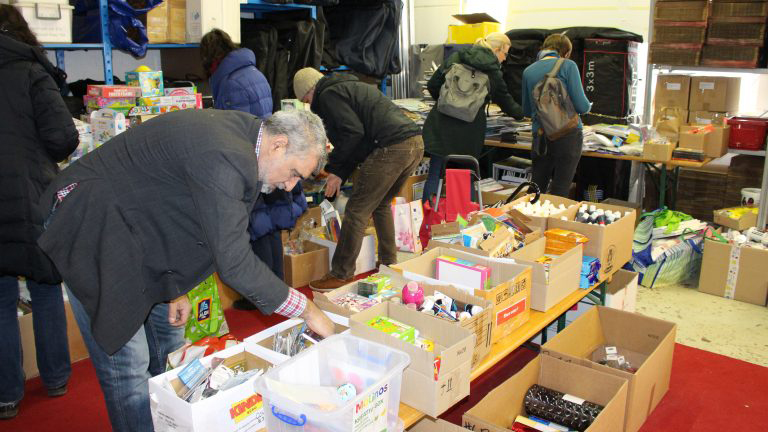 The donations in the storerooms of the Children's Office in Riederwald include a huge selection of materials for creative crafts.
For twelve years, Creativeworld and the Frankfurt Children's Office have appealed to the exhibiting companies to donate their creativity products to good causes after the show. This year is no exception and 111 manufacturers, from Germany and abroad, have donated materials, ranging from acrylic paints, watercolours, coloured pens and pencils, felt tips, erasers, modelling material, glitter, stickers and adhesives to high-quality paper, paper fabric, canvasses and easels. Every year, the Frankfurt Children's Office invites more than 50 children's and youth organisations to come and select what they need for their work from this huge stock of materials for creative activities. Altogether, more than 3,000 children and young people, living in Frankfurt's socially disadvantaged districts, are benefitting from these donations every year.
In the middle of March, the doors of the storerooms at the Children's Office in Frankfurt's Riederwald district were open once again, and teaching staff were able to help themselves to whatever they liked from the abundance of materials available.
We extend our warmest thanks to all the manufacturers who have taken part in the donation scheme this year.
Companies

Hall

Stand

Morocolor Italia S.p.A.

4.1

A06

eagle kreativ Deutschland GmbH

4.1

A08

Niefenver Iberica, SL

4.1

A10

Epoch Chemical Co., Ltd.

4.1

A13

Mapac Group Limited

4.1

A15

Javier Herranz, S.L.

4.1

A27

Christian Verlag GmbH

4.1

A43

Art Materials Ltd.

4.1

A45

A. Haussmann GmbH

4.1

A61

Art BOYA MALZEMELERI KIRT. TUR. DI# T#C.

4.1

A62

CREARTEC trend design GmbH

4.1

B01

OLFA Corporation

4.1

B38

Sairam International Pvt. Ltd.

4.1

B40

DecoArt INC

4.1

B61

Smart Fab International LLC

4.1

B64

Turan Boya San ve Tic Ltd Sti.

4.1

C26

Manuscript Pen Co., Ltd.

4.1

C38

HOBBYRING Creativ + Freizeit

4.1

C47

Bernasconi Fratelli di Umberto

4.1

C57

Mont Marte International Pty. Ltd.

4.1

C61

Molax GmbH

4.1

C63

Havo B.V.

4.1

C64

Hahnemühle FineArt GmbH

4.1

E10

H. Schmincke & Co. GmbH & Co. KG

4.1

E10

Marabu GmbH & Co. KG

4.1

E30

Ellison Europe Ltd.

4.1

E33

C. Kreul GmbH & Co. KG

4.1

E51

Max Bringmann KG

4.1

E60

Staedtler Mars GmbH & Co. KG

4.1

E61

JOVI S.A.

4.1

E71

frechverlag GmbH

4.1

F01

Vaessen Beheer  B.V.

4.1

F11

Max Sauer SAS

4.1

F34

Educational Art & Craft Supplies Ltd

4.1

F67

Daler-Rowney Ltd.

4.1

G51

Canson SAS

4.1

G51

F.I.L.A. S.p.A.

4.1

G51

Industria Maimeri S.p.A

4.1

G51

Princeton Art & Brush

4.1

G51

Dixon Ticonderoga Company

4.1

G51

St Cuthberts Mill Ltd

4.1

G51

Lyra Bleistift Fabrik GmbH & Co. KG

4.1

G51

CERAMICA COLLET S.A.

4.1

G67

Madrid Papel Import S.L.

4.1

G71

Magnani 1404 S.r.l.

4.1

H36

Tonic Studios Ltd.

4.1

H65

Lion Office Products Corp.

4.1

J17

F.M. Brush Co., Inc.

4.1

J31

Acrylicos Vallejo S.L.

4.1

J39

Art Material International

4.1

J60

AMEWI Trade e.K.

4.1

J67

Angel Malma s.r.o.

4.1

K38

Creative Arts Products Limited

4.1

K45

Yisheng Industries Ltd.

4.1

K46

Zahidna Promyslova Grupa PJSC

4.1

K50

La Francaise des Couleurs SAS

4.1

K58

Nihon Rikagaku Industry Co., Ltd

4.1

K68

Furnart Ahsap Urunleri

4.1

K69

Nara Global Co., Ltd.

4.2

A04

Printindo Mega Utama, PT

4.2

A06

DYP SIA

4.2

A09

Surbright Enterprises Co., Ltd.

4.2

A11

AEC Offshore Trading Pvt Ltd

4.2

A14

Xiamen Qilei

4.2

A21

Chance Line Industrial Co., Ltd.

4.2

A27

Shenzhen Honest Industry Co., Ltd.

4.2

A35

By the Buy

4.2

A62

Bobilon - PE Reshetnikova

4.2

A64

Shenzhen Zebras International Technology

4.2

A68

Shanghai Marie Painting Materials

4.2

A70

Shri Ganesha

4.2

B17

IP Kasparas A.B.

4.2

B30

Cousin Corporation of America

4.2

B33

Splat Planet Limited

4.2

B36

Tianchang Shuangfeng Stationery

4.2

B4.1

Schulcz Modellmaterial GmbH

4.2

B4.2

Chee Wah Corporation Berhad

4.2

B50

UART

4.2

B71

NINGBO FLYINGKING IMPORT&EXPORT CO.,LTD.

4.2

B85

MARKET UNION GROUP CO.,LTD.

4.2

B86

LAVINIA STAMPS LIMITED

4.2

C10

Eclectic Products LLC

4.2

C21

Best Creation, Inc

4.2

C25

Distribuidora Universal SL

4.2

C35

Wm Sinclair & Sons (Stationers) Ltd

4.2

C40

Kreativplotter GmbH & Co. KG

4.2

C57

Spellbinders Creative Arts

4.2

C58

P13 K. Synakiewicz, L. Ciubak s.c.

4.2

C62

Productos Para Manualidades

4.2

C70

Polyform Products Company

4.2

D17

COLORYA SASU

4.2

D23

Shanghai Fortune Stationery Co., Ltd.

4.2

D54

Crafter's Companion Ltd.

4.2

D56

Montana Colors S.L.

4.2

D57

Heartfelt Creations

4.2

D58

Tombow Pen & Pencil GmbH

4.2

D60

Alres B.V.

4.2

D61

Heyuan City Wingart Enterprises Co.,

4.2

E15

CraftLab Marcin Machnacz

4.2

E39

RIGO LLC

4.2

E70

HUNKYDORY GROUP LIMITED

4.2

F02

Jong IE Nara Co., Ltd.

4.2

F08

Main Street srl

4.2

F09

Chun Pao Enterprise Co., Ltd.

4.2

F16

BD - TOVA, s.r.o.

4.2

F17

Sunny Pro Co., Ltd.

4.2

F21

A R Impex

4.2

F24

Liliya Holding (Technical Paper)

4.2

F38

Stix2 - UK Industrial Tapes Limited

4.2

F51

Clairefontaine Rhodia

4.0

F46


Mont Marte International Pty Ltd
 
4.1
C61
Every year, things that have been created using the Creativeworld donations are displayed in the Frankfurt Children's Office with its 'KinderArt' exhibition, which showcases artworks from all the organisations that have benefitted from the donations. This year, the collection focuses on Article 24 of the UN Convention on the Rights of the Child – Healthcare.
KinderArt! impressions 2019
These children's artworks resulted from donations by the Creativeworld exhibitors. Together with all the children of Frankfurt, we say a heartfelt thank you. Click your way through the creative artworks.