Creativeworld is a product show and order platform. It is inspiring, lively and future oriented. On all four days of the fair, we showcase everything the creative heart desires: visitors can do handicrafts, paint, cut things out, design jewellery, practise gift-wrapping and hold discussions with colleagues.
Creativeworld lives from its highly diverse event programme. Our visitors want to experience and test the latest products, try out current trends, and exchange views and ideas on industry-related topics.
Street Art special show: offers new perspectives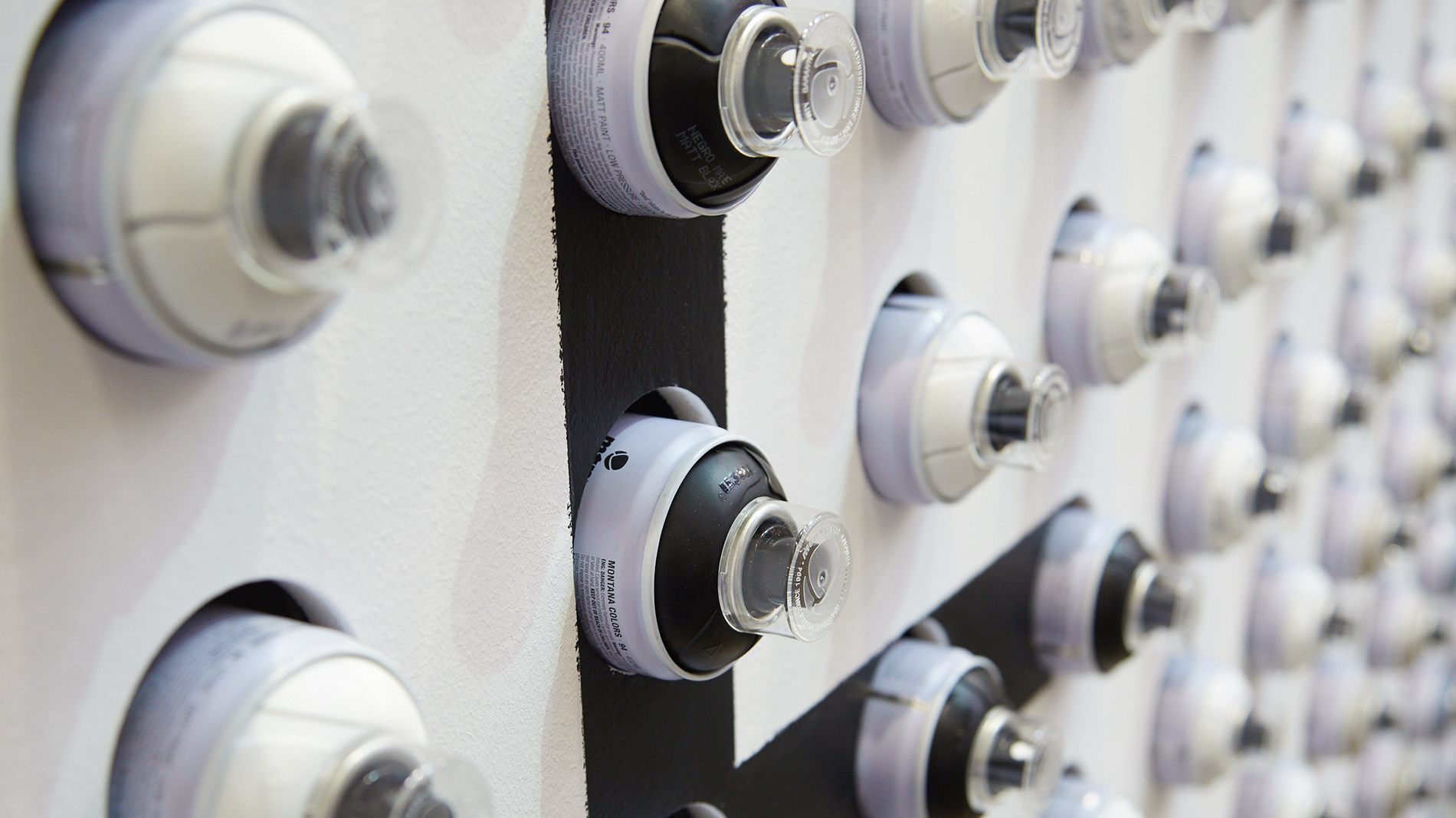 Everyone is talking about street art, a subject that offers the specialist trade a variety of ways to reach new target groups. Street art has made the leap from its humble beginnings to the museums of the world. And even into people's living rooms. Graffiti – behind the sofa, in the kitchen, on the garden wall or on the balcony wall – is now considered socially acceptable. Numerous manufacturers have identified this trend and are now offering new products and techniques. Evident in this connection is the increasingly important role played by both environmental and health aspects. For example, the first refillable spray can has made its debut, as have products that promise to produce minimum odour levels and are suitable for use on all surfaces. Moreover, manufacturers offer ways in which the subject of street art can be integrated into shops.
NEW: Trade Concept 4.0: 'Upgrade your store'
The Trade Concept 4.0: 'Upgrade your store' is in planning just now. In the form of a specialist shop, this special exhibition will show how to find a place for street-art displays in classic hobby and handicrafts shops. Lectures on the shopping experience will reveal ways in which retailers can reach and generate new target groups. We are being supported by the Feuerstein GmbH (own brand: MOLOTOW™).
'To hold its own at the fiercely competitive point of sale, the bricks-and-mortar trade must retain customers with conceptual shopping experiences and a feeling of well-being. The Creativeworld Trade Concept 4.0 shows, how specialist retailers can integrate the subject of street art into their businesses and reach new target groups.'
NEW: 'Urban Art Lab' special show
Also devoted to the subject of street art will be the new 'Urban Art Lab' special show with Carlos Lorente, CEO and coach of Style Scouts - Graffiti Akademie. The content of this indoor special show includes the history, tools and the future development of graffiti and street art. On an outdoor area, there will be a big Graffiti Wall covered with different surface materials, such as wood, cardboard, awnings and concrete, to demonstrate the diversity of street art and the materials used.
Creativeworld Trend Show: Trendsetting
The creative industry keeps on moving, with the importance of creativity growing in these times of increasing digitalisation. And so, artistic creativity using our hands, and various materials and colours, offers a balance to working on the computer. The terms 'hygge' (warm and cosy), mindfulness and deceleration are on everyone's lips, and they have developed into societal trends where creative handicrafts play an important role. Turning away from mainstream products in favour of individualisation is the main focus here.
The bora.herke.palmisano design studio has been commissioned by Messe Frankfurt to introduce the trends for the upcoming DIY season. The trends are graphically portrayed In the Creativeworld Trend Show, which presents the materials and tools used to make each individual piece. In addition, the trend themes are clearly and attractively summarised for you in a brochure. Let yourself be inspired and find numerous inspirations for your projects.
Specially for exhibitors: you can come to the Trend Show with your latest products and present yourselves to the trade visitors as an innovative company. We will let you know how this works in good time.
Image gallery for the Creativeworld Trend Show 2018
Creativeworld Trends 2018/19
For the 2018/19 DIY season, Stilbüro bora.herke.palmisano, on behalf of Messe Frankfurt, has developed three trend worlds dominated by a blend of different material combinations, influences from nature and puristic colours.
The Colourist trend revolves completely around the subject of colour with intensive shades such as magenta, yellow, cyan, orange-red, azure, violet and emerald playing the leading role. The intensive colours are applied to the different materials with rough brush strokes, scrapers, stamps or templates. In this way, wood, plastic, wool, bast materials and patterned silk fabrics are given an extraordinary finish with striking patterns, painted typographies or checks. Traditional skills are tested with new materials. Thus, an ancient batik technique, 'shibori', is used for a variety of materials, from fabric and paper to bast. There are also many recycling ideas, e.g., plastic strips, cable and PET bottles combined with classic DIY materials.
The Colourist is an expressive, young and dynamic trend offering a host of opportunities for turning a variety of materials and patterns of all kinds into small, individual works of art.
Nature is a rich source of creative inspiration. Leaves, blossoms, herbs, insects and landscapes are the motifs of The Gardener for designs, three-dimensional images or embroidery templates. The trend unifies a natural range of colours including copper beech, lime, oak, sage and chicory. Sketches created using different painting techniques, such as gouache, water, oil and pastels, not only decorate greetings cards but are also used as design ideas on fabrics and porcelain. Moreover, the variety of leaves is an invitation to be creative. Domestic trees are recreated artistically on paper in different shades, and folded into three dimensions. Leaves and insects are used as embroidery motifs. In this case, a variety of shades from natural colours is used. Moreover, knitting offers numerous opportunities to add a very personal touch. No longer is the classic knitted scarf rounded off with wool fringes but with feathers, pearls or mussels.
Dark shades are used for pottery. Irregular and hand-made shapes are created by dispensing with the potter's wheel before being glazed individually.
Sensuous and relaxed, The Gardener stands out through its natural variety offering inspiration and new motifs for all creative activities.
This clear, puristic style is given expression through the use of high-grade materials, such as paper, cardboard, chrome and leather, and a restrained finish. In the case of The Purist trend, plain objects are turned into something special simply by using patterns. Thus, a leather shoe can become unique through the application of delicate polka-dots. Typographies for sweatshirts and hoodies can catch the eye if the letters are not printed in the usual places but run across the hood. Moreover, the contrasting surfaces and their properties generate an aha-effect. Soft and gentle meets hard and angular, shiny metal competes against dull and matt while paper thin meets strong and bulky. Thus, a fine line is drawn with a pencil on rough hand-made paper. Or bright, chromed products, such as mugs, dishes and bowls, are sprayed with matt paint. Beside white, shades of grey and chrome, the colours in this trend world range from rosé shades to dusty pink.
The Purist trend puts the focus on the quality of the materials used, which underscores the reduced, simple and high-grade style.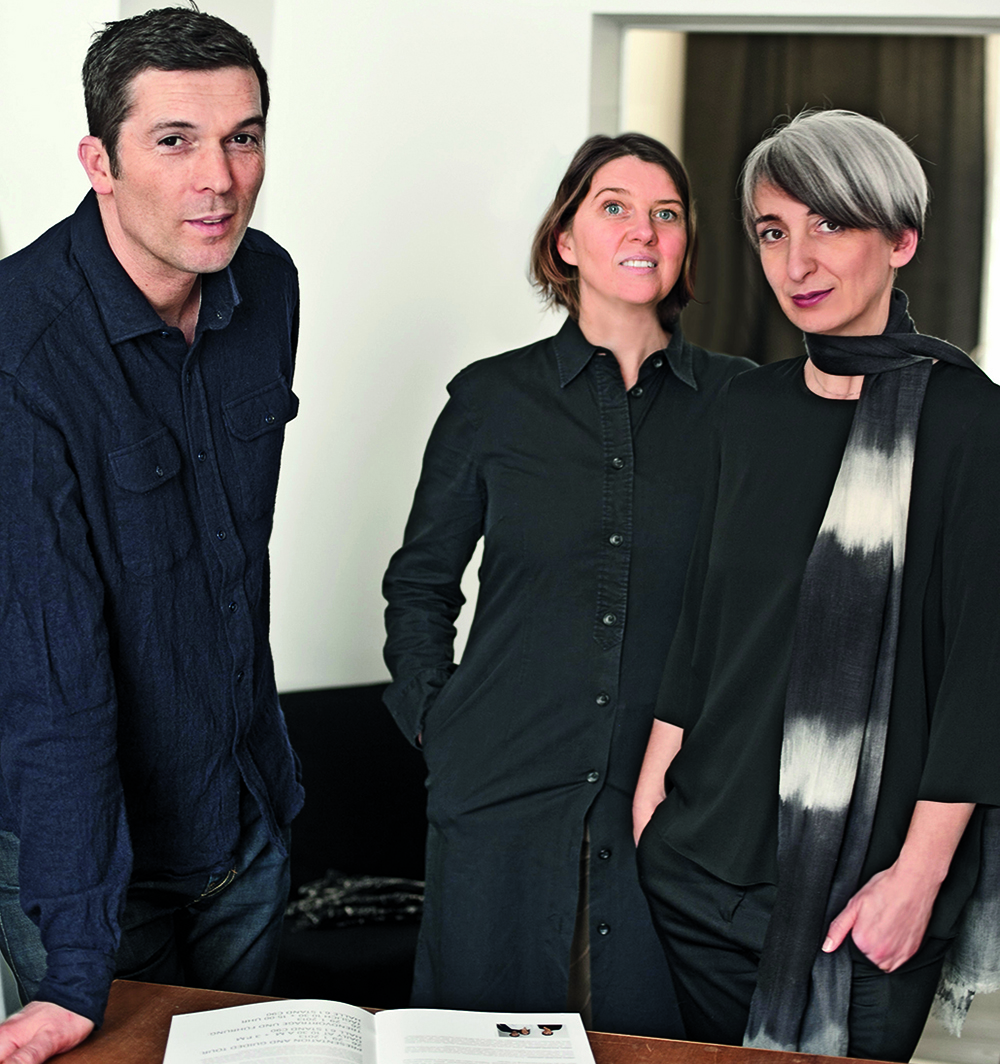 Designers Cem Bora, Claudia Herke and Annetta Palmisano from the design studio bora.herke.palmisano analyse international trends in fashion and art, interiors and lifestyle. In the Trend Show and in the Trend Brochure, they illustrate the stylistic currents of the coming season in an approachable and market-related way.
Creative Impulse Award
The Creative Impulse Award is a firmly established feature at Creativeworld and the most important award worldwide in the hobby, crafts and artists' requisites industry. It was awarded for the 13th time in 2018. Messe Frankfurt awards the coveted prize in cooperation with publishers bit-Verlag.
All entries will be staged in a high-profile special exhibition at Creativeworld stating the submitting company and its stand number. The award ceremony takes place on 26 January 2019.
For exhibition: Take part and win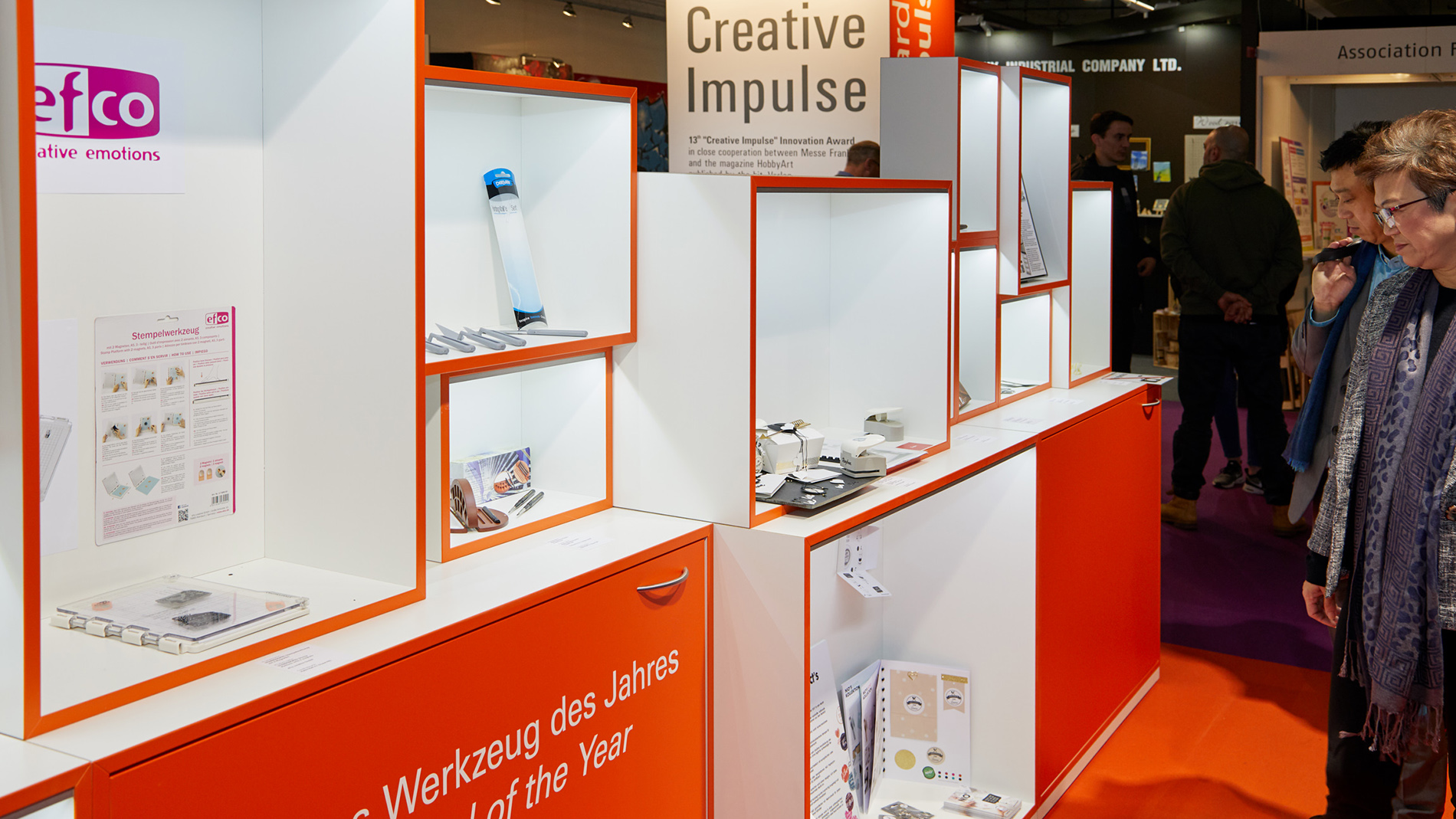 In 2019 once again, we are looking for the most innovative products, tools, complete kits and books. All Creativeworld exhibitors are called upon to enter their new products into the race for the Creative Impulse Award 2019.
To participate, please fill out the registration form for the respective category and send it to the address given. The participation fee in all categories is EUR 250 per entry. The entry deadline for all documents and samples is 23 November, 2018. Further information can be found in the Creative Impulse Flyer.
Creative Impulse Award brochure 2018
Find all submitted product innovations in the Creative Impulse Award brochure:
Creativeworld Forum: Testing stage
The Creativeworld Forum is the creative meeting place and the big stage in the heart of Creativeworld. This is where workshops and product demonstrations take place on all four exhibition days, and where you can try out new materials and techniques. DIY icon and TV host Martina Lammel will take visitors through the programme.
Ensure your slot on the big stage at the Creativeworld Forum now!
As a Creativeworld exhibitor, you can apply for a slot on the stage to present your latest innovations, products, materials and techniques to trade visitors. Please note that the Forum is only intended for the presentation of new products and innovations. Would you like to participate? If so, please complete the registration form below and send it to the address given:
The workshops in the Creativeworld Forum are received by the trade audience with great enthusiasm. The new products and materials are able to leave a far greater impression with a practical demonstration rather than a simple presentation on the exhibition stand.
Fundraising campaign: Creative help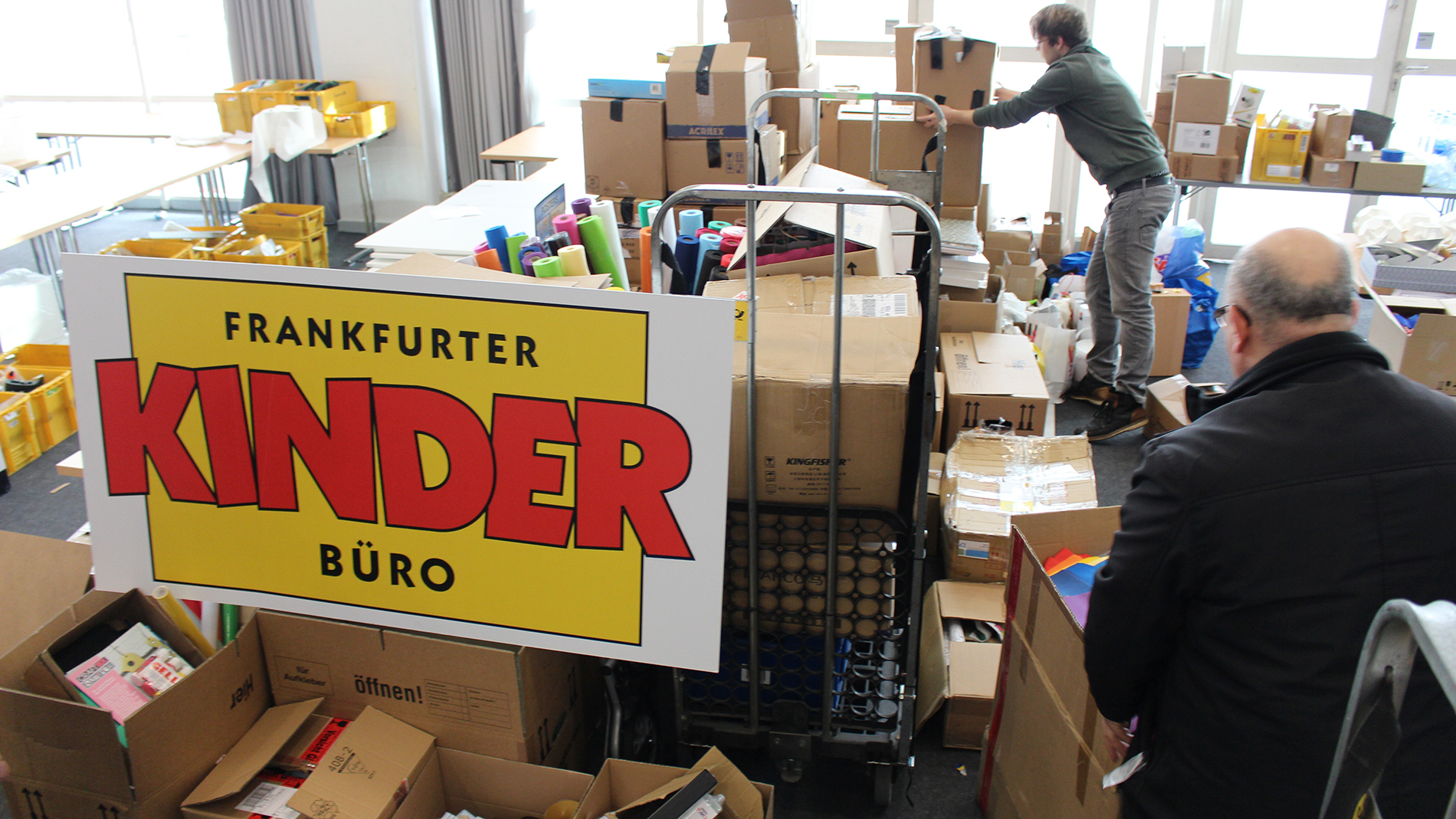 More than 90 Creativeworld exhibitors took part this year in our fundraising campaign for the  Frankfurter Kinderbüro (children's association). We were there at the beginning of March when immense numbers of donations were distributed to 50 Frankfurt children's and youth facilities. The consistently positive feedback and huge vote of thanks from the teachers has shown us how important this initiative is in the future as well! So we're appealing to you here now: Please donate again to this fantastic project in 2019!
A selection of artworks, which have been made from the materials donated, is on show in the in the 'KinderArt' exhibition at the Frankfurter Kinderbüro offices.
These exhibitors donated products for the Frankfurter Kinderbüro:
KinderArt! impressions
These children's artworks resulted from donations by the Creativeworld exhibitors. Together with all the children of Frankfurt, we say a heartfelt thank you. Click your way through the creative artworks.