Creativeworld is a place to meet. In person on site in Frankfurt and online, for all those who cannot come to Frankfurt in 2022. An online platform ensures networking for all participants. So you can be there in 2022 - live in Frankfurt or digitally.
Take advantage of the diverse opportunities for interaction and networking offered by our digital platform. With the Creativeworld digital addition, you extend your networking opportunities. In the digital space, you can expand your industry knowledge and make direct contact with industry participants and experts. And you can do this from 21 January and until 15 February 2022.
Our graphic shows you which functions are available from when. So that you can plan your participation perfectly.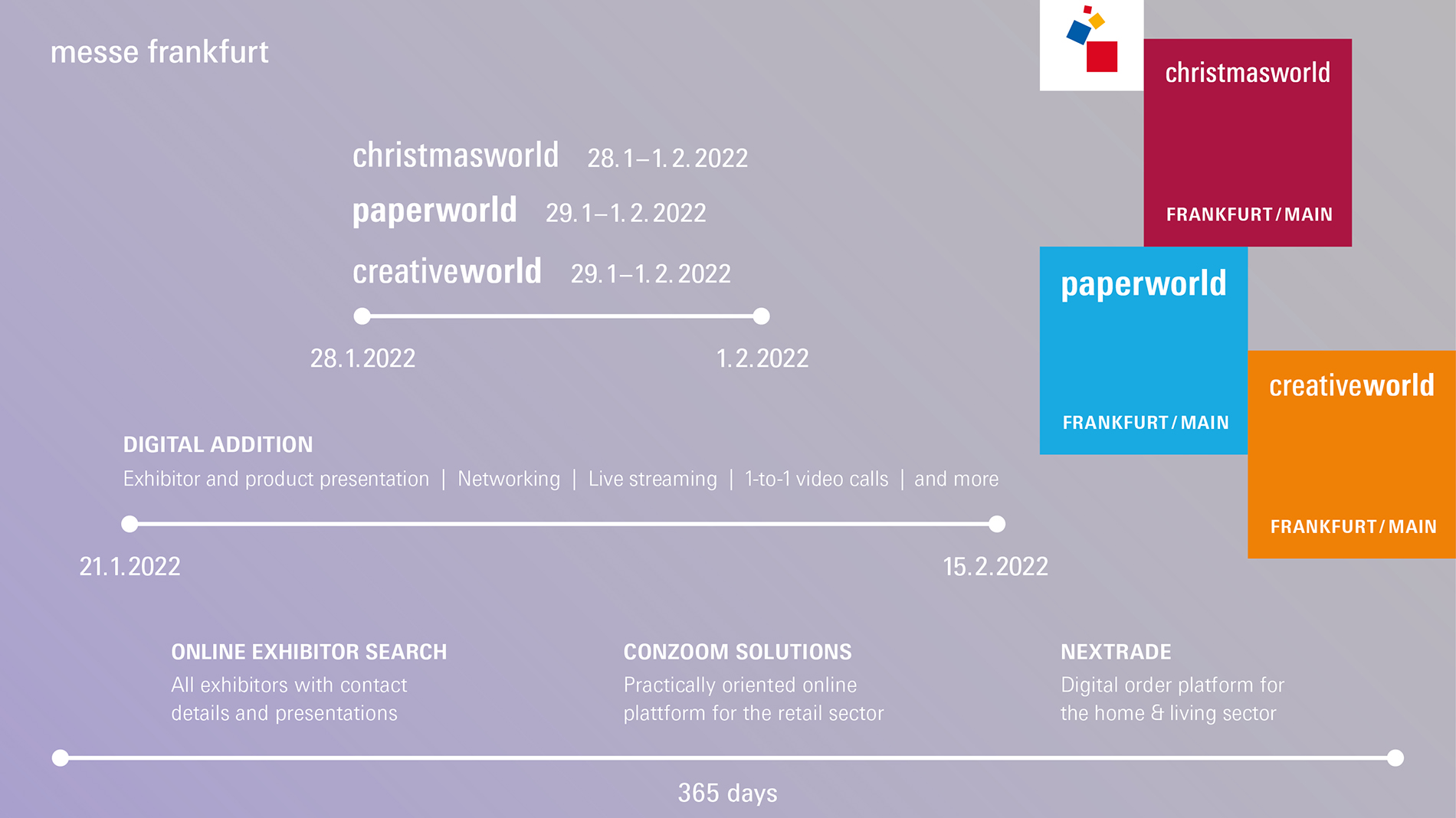 Exhibitor and product presentation
This is how you make contacts and discover new products: At Creativeworld, all participating companies have an online profile with new products, contacts and further information about the company.
Networking
Business meetings are a priority at Creativeworld in Frankfurt and also online. Our system identifies people, exhibitors and conference content that are of interest to you. In this way, you receive perfectly tailored contact and event recommendations.
Live streams
Selected lectures, workshops and discussion rounds are streamed live and can be experienced digitally. Online participants participate in interactive discussions in chats and Q & A sessions. The videos will be made available on-demand afterwards.
1-to-1 video calls and chats
Arrange meetings in virtual space with interested companies and business partners and discuss your current topics with suppliers and experts.
Nextrade
On Nextrade, buyers can order directly from hundreds of suppliers and top brands! But with individual conditions and lots of product information, which can be downloaded for your own shop.
Conzoom Solutions
Comprehensive insider knowledge as well as valuable expert lectures and seminar offers can be found all year round at Conzoom Solutions, Messe Frankfurt's online platform especially for the retail sector. Here, videos are made available on-demand after Creativeworld.
Podcast: Hybrid trade fairs offer the best of both worlds
What digital functions can exhibitors look forward to in concrete terms? How can they present themselves on the digital platform? What are the advantages of the mix of face-to-face meetings on site and the online offer? Learn more about this topic in our podcast.
Participate as an exhibitor
Participation in the Creativeworld digital addition is an exclusive, free offer for exhibitors with a stand at Creativeworld 2022 in Frankfurt.
Detailed information on the included services can be found here.