"It's summer and we spend a lot of time in the open air, be it in the garden, on the balcony, at barbecues or birthday parties. For retailers, this time of year offers a multitude of possibilities for encouraging customers to enter their shop. Materials available to creative individuals need to be fresh, light, natural and brightly coloured," says Claudia Herke, a designer at the bora.herke.palmisano Trend Bureau. Every year, Messe Frankfurt commissions the Trend Bureau to derive the Creativeworld Trends and provide a forecast of the techniques and materials that will be in demand tomorrow. With the tag line 'Happy Place', Claudia Herke and her colleagues have curated a summery trend that has something to offer for every occasion.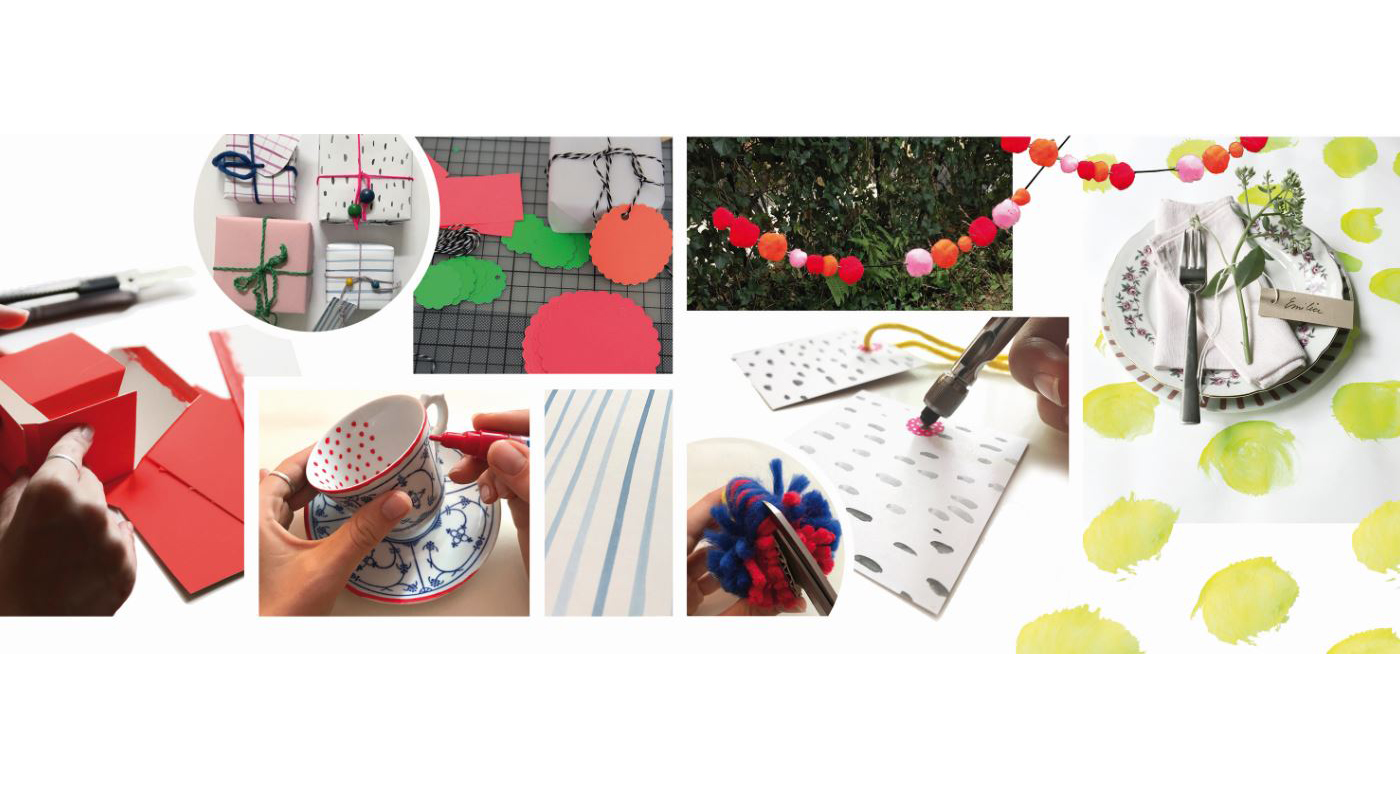 Retailers can decorate their ideas for present giving, gift wrapping and partying with bright, bold colours. Paper plays a major role in this: for invitation cards, made-to-measure packaging, gift boxes and wrapping paper, not to mention paper tablecloths for summer parties. "I see, for example, invitation cards on high-quality paper, that have been decorated with strands of wool, pearls or coloured dots. To go with that, there is the correspondingly decorated birthday table, with a brightly coloured chain of woollen pompoms hanging over it," continues Herke. In the 'Happy Place' you are free to do whatever is fun and gives pleasure. Dots and stripes, comics and graffiti – the patterns are simple and impactful. There is every kind of paper and cardboard; elegant, smooth, shiny, natural matt, tactile. The apparently endless variety is complemented with pearls, ribbons and pompoms. And there is a wide range of colours too: yellow, orange, red and pink vie in luminosity with greens and blues. But there is no lack of neons either, which develop their full intensity in combination with more sober colours.
Tips and techniques for achieving similar effects
"Being able to give informed, expert advice is the be all and end all for high street retailers. That is their strength as against the online business. The Creativeworld Trends enable us to provide the retail trade with an overview of the most popular creative techniques and to showcase the materials that are needed for them," says Claudia Herke, and offers some practical tips:
On-trend technique: create unique items
Acrylic pouring: this is the top trend on the artistic and creative craft scene and, currently, the most popular technique with fluid acrylic. Little wonder! For the variety of design possibilities afforded by 'fluid painting', as this technique is also sometimes called, is fascinating. Acrylic pouring involves carefully pouring vibrant-coloured paint over the object, thus creating brightly coloured and stylish one-offs.
Encaustic: this is an ancient technique for creating individualised greeting cards, table cards and gift-wrapping paper. The heyday for encaustic was in the art of Graeco-Roman antiquity. It involves spreading hot, pigmented, molten wax on special encaustic board. That creates textures and colours with an extraordinary shine and an impressive sense of depth.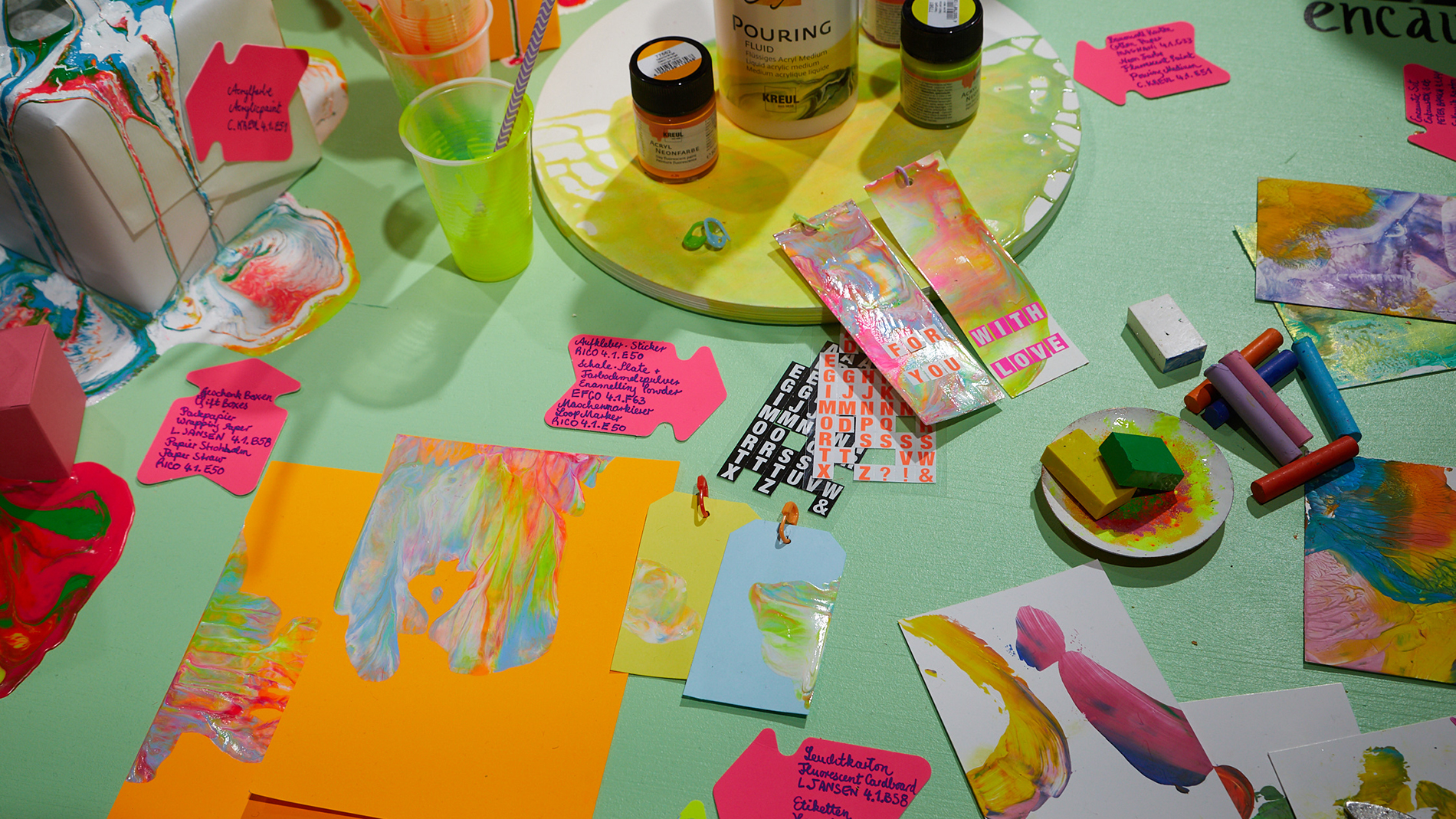 Gestaltungsideen: Geschenke für jeden Anlass
Coffee to-go ist so beliebt wie umweltschädlich. Doch es geht auch anders: Geschirre aus nachhaltigem Bambus bieten nicht nur eine echte Alternative zum Wegwerfbecher, sondern lassen sich mit bunten Farben wunderbar zum Geschenk gestalten. Sie bieten eine zeitgemäße Picknick to-go Idee.
Zum Kaffee und zum Picknick passen Törtchen und Muffins, die gern mal aus Textilien und somit ganz kalorienarm sein können. Selbstgemachte Schmuckstücke in Form von textiler Patisserie sind tolle Geschenke und Dekorationen – unter dem Motto: Süßes für die Süßen. Als kreativer Blickfang dienen Perlen, Armbänder, Ketten und Broschen.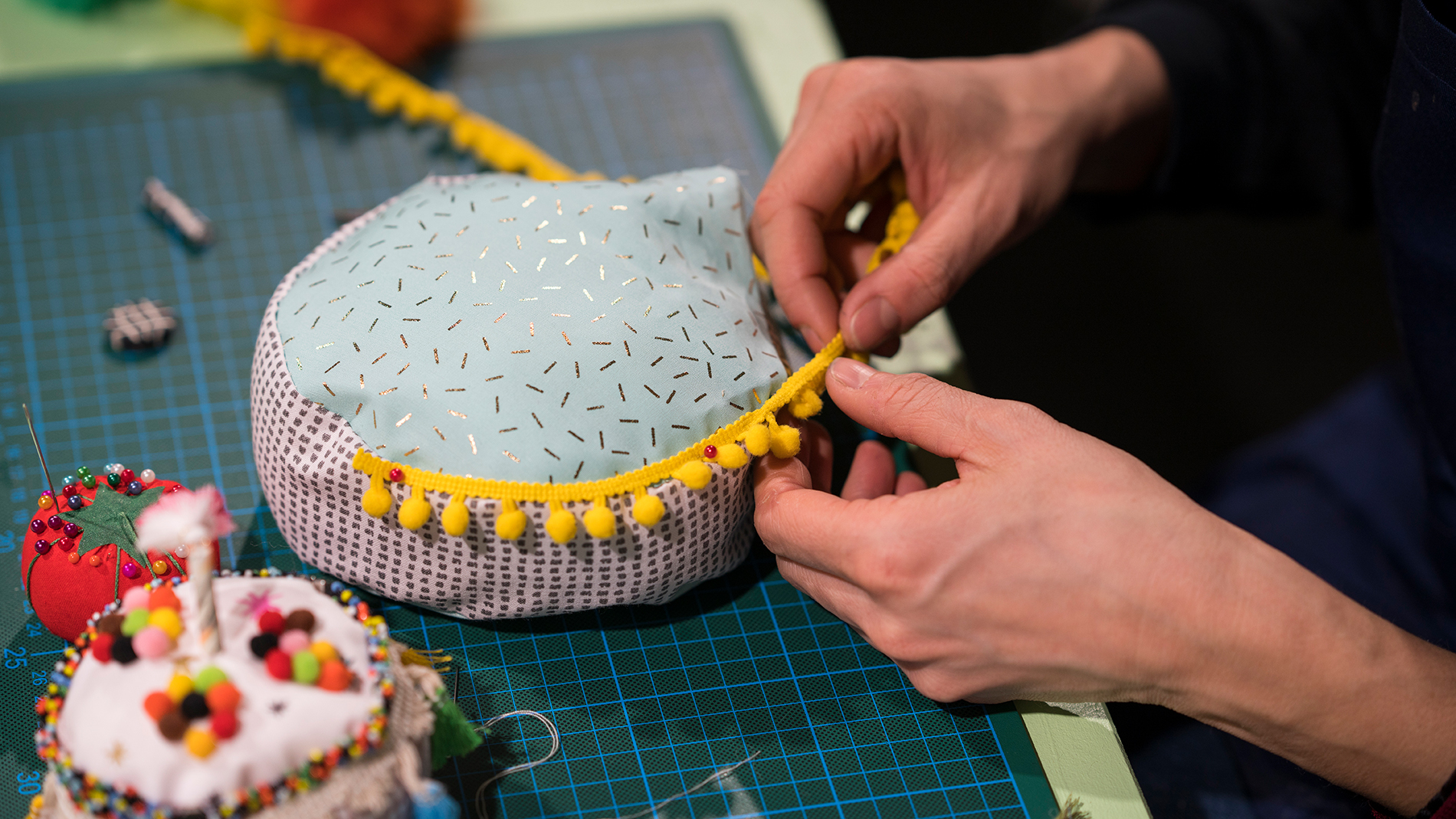 Design idea: table decoration
Block stripes, applied with luminous glass or porcelain paint, are a great way to freshen up old porcelain. Matching coloured coasters can, for instance, be made from cotton-based watercolour paper. This is painted and then cut to shape with fringing scissors. Tablecloths made from washable paper can also be decorated using fringing scissors.
Polka dots are not only a perennial favourite, they are also an easy-to-use design feature. And the dots can be made from a wide range of materials; anything from paper to felt. They can be painted, stamped or glued: on paper tablecloths, cups, plates and napkins. In similar vein are those good old bobbles – or pompoms – which are currently enjoying a real revival.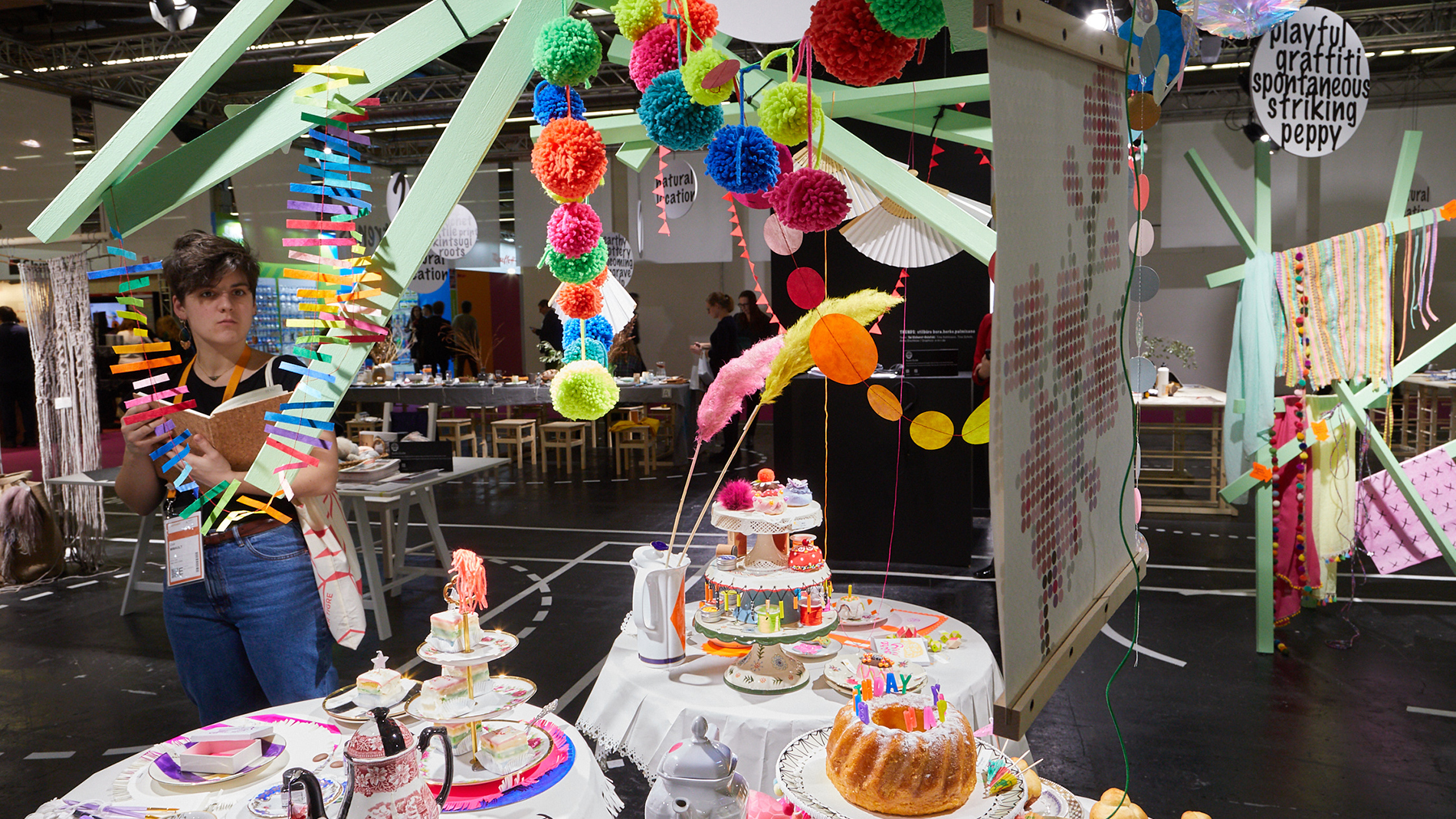 Specialist retailers can keep up to date with the Creativeworld Blog: www.creativeworld-blog.com
The next Creativeworld will take place from 25 to 28 January 2020.
Further information, together with photographs and video material can be found at:
You can also follow us on Facebook.


Creativeworld
Creativeworld is the world's leading trade fair for the international hobby, handicrafts and artists' requisites sector. In 2019, a total of 362 exhibitors from 44 countries made presentations to 9,152 trade visitors. At Creativeworld, exhibitors show their latest products, techniques and materials for decorative crafts, graphic and artists' requisites, handicrafts, textile design and creative hobbies. And, as a trend and business platform, the trade fair is the first important venue of the business year. Creativeworld is the ideal order platform for the wholesale, retail and specialist trades, DIY markets, garden centres, the internet and mail-order trades. With its multi-faceted complementary programme of events, Creativeworld is a source of new ideas, inspiration and expert knowledge.

Conzoom Solutions – The platform for retailers
Conzoom Solutions is a knowledge platform that offers the consumer goods industry a wide range of studies, trend presentations, workshops and guidelines for the point of sale. It provides a complete overview of Messe Frankfurt's international portfolio in the consumer goods sector – bundling a wide range of information for retailers.
www.conzoom.solutions
Background information on Messe Frankfurt
Messe Frankfurt is the world's largest trade fair, congress and event organiser with its own exhibition grounds. With over 2,500* employees at 30 locations, the company generates annual sales of around €715* million. Thanks to its far-reaching ties with the relevant sectors and to its international sales network, the Group looks after the business interests of its customers effectively. A comprehensive range of services – both onsite and online – ensures that customers worldwide enjoy consistently high quality and flexibility when planning, organising and running their events. The wide range of services includes renting exhibition grounds, trade fair construction and marketing, personnel and food services.
With its headquarters in Frankfurt am Main, the company is owned by the City of Frankfurt (60 percent) and the State of Hesse (40 percent).
Further information is available at: www.messefrankfurt.com
* Provisional figures 2018