The donations encompass everything that young lovers of arts & crafts could wish for: from canvasses, brushes, paints, pens and fabrics, to modelling clays, stamps, stickers, and many more things. "Creativeworld is a trade fair, so it is not open to end consumers. With our fundraising campaign, though, we offer children and young people in the region the opportunity to get creative with the latest arts & crafts materials", says Michael Reichhold, Creativeworld Director at Messe Frankfurt Exhibition GmbH. "This year, we received materials from 96 exhibitors from Germany and abroad – that is a new record. We are pleased that Messe Frankfurt can make a contribution to encouraging the creativity of children and young people in this way", Reichhold continues.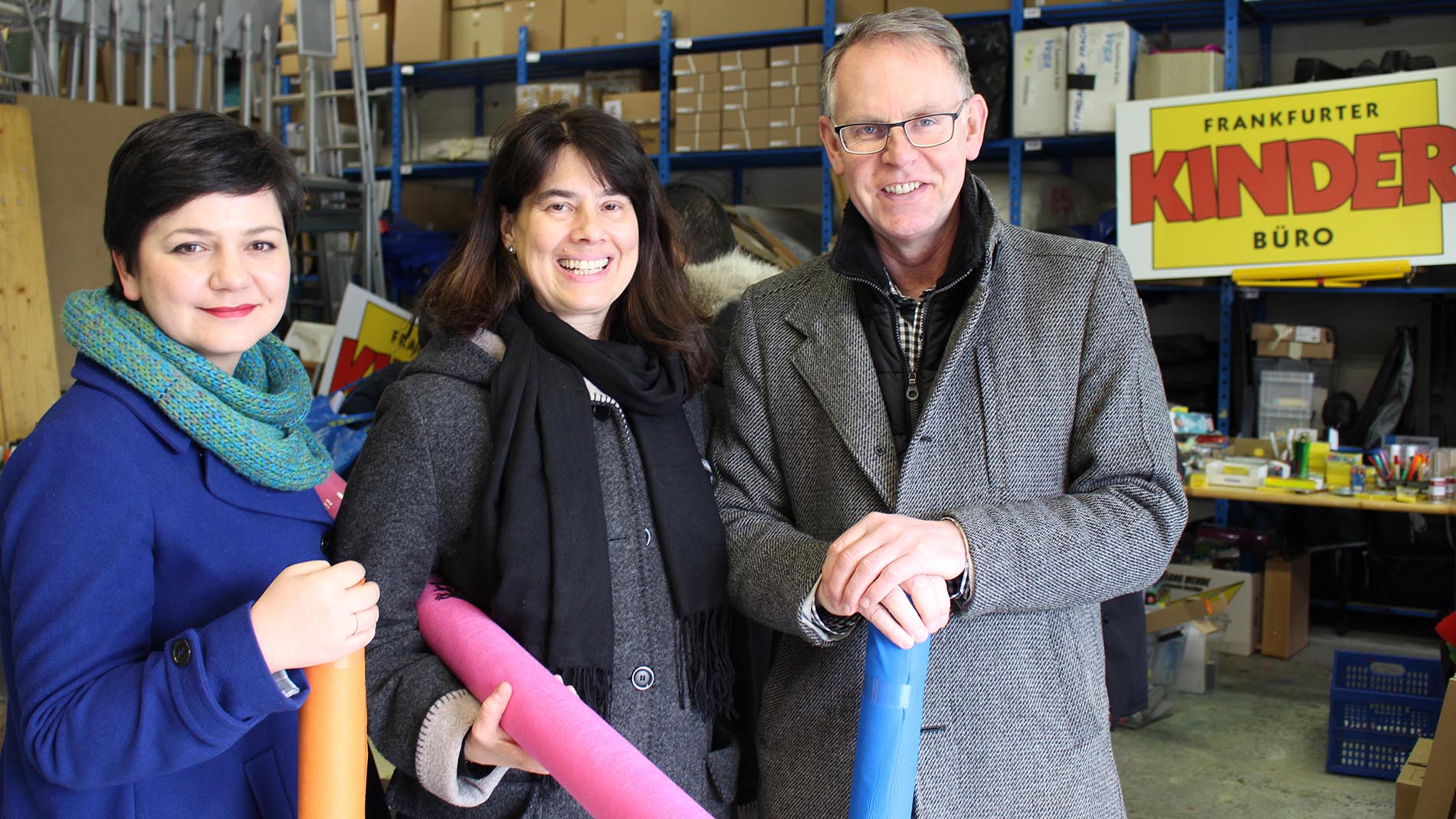 The international trade fair for hobbies, arts & crafts and artists' requisites, which took place in Frankfurt am Main from 27 to 30 January 2018, organises the donation appeal in close cooperation with the Frankfurter Kinderbüro. The Kinderbüro has its own stand in the midst of the action at the fair, which means it can make direct contact with the exhibitors. "It is very helpful to be on the spot at Creativeworld and to be able to present our work. In this way, exhibitors get a better understanding of what happens with the donations and they are more prepared to take part. It is great that Messe Frankfurt provides us with this stand free of charge", says Madeleine Michaelis, organiser of the Frankfurter Kinderbüro's donation campaign. The huge volume of materials is collected from the stands while the fair is being dismantled, and it is loaded into two large vans. The Kinderbüro receives active support with this from young people at a youth club, the Naxoshalle, in Frankfurt's East End, and from voluntary helpers.
More than 50 facilities are invited to the handover of donations
Last Wednesday, the Frankfurter Kinderbüro invited supervisors of children's and youth facilities in Frankfurt to the industrial area of Fechenheim/Riederwald, so that they could choose the products necessary for their work from the donations. "This donation campaign has been running for nine years now and we have built up a large network with very many facilities, including various kindergartens, primary schools, family centres, toddler groups and refugee homes", says Michaelis. "This year, the Frankfurt 'City of Children' campaign is also benefitting from the donations. For Children's Day on 1 June, a week of campaigns relating to the theme of children's rights will be organised here."
Margarethe Hapig, an art teacher at the Schülerladen Westend childcare facility, has been involved in the donation campaign for five years now: "The campaign is a true gift for our childcare centre. Our children are between the ages of six and twelve and we do many different activities, such as, for example, working with stones and being creative with all sorts of things. The materials that we find here are wonderful and every year we discover new products that we can use for our work." Chiara Hackenberg, a nursery school teacher at the Integrative Krabbelstube (inclusive toddler group) in Frankfurt Hausen, took predominantly fabrics for the children. "This year we want to make works of art out of fabrics and other materials. I have found many fantastic things for this, like stickers and paints. There's a great range of products on offer and the little ones enjoy experimenting with different materials. We have a room for wet play, for example, where the children can be creative with colours", she says.
'KinderArt!' showcases artworks by young Frankfurters
The Frankfurter Kinderbüro is putting on the 'KinderArt!' exhibition at Schleiermacherstraße 7 to show how the donated materials are being used. This year, 38 new and diverse artworks by young Frankfurt artists are being exhibited here. The children and young people, between the ages of two and fourteen, were able to make use of the materials from the Creativeworld donation campaign when producing their artworks.
The young artists are being asked to be creative this year as well. From each facility, one of the artworks created is donated to the Frankfurter Kinderbüro, so that the 'KinderArt!' exhibition can take place each year. "The KinderArt! 2019 themes have already been decided. Article 13 and Article 17 in the UN Convention on the Rights of the Child are the themes that can be chosen. Article 13 encompasses freedom of expression and information, and Article 17 is concerned with the right to have access to the media, child and youth protection", Madeleine Michaelis explains.
The pictures and sculptures in the 'KinderArt!' exhibition can be acquired with a donation to the Frankfurter Kinderbüro 'sponsorships' fund. With this fund, children up to 14 years of age, whose parents are not able to support their talents financially, have been encouraged for many years in art, music and sport in a simple and unbureaucratic way.
Creativeworld exhibitors who took part in the donation campaign in 2018:
| | | |
| --- | --- | --- |
| Morocolor Italia S.p.A. | Creativity International Ltd. | Collall B.V. |
| Artograph, Inc. | Silvar Brush Limited | Colorificio Centrale S.r.l. |
| CREARTEC trend design GmbH | OLFA Corporation | Pronty B.V. |
| Smart Fab International LLC | Tara Materials, Inc | Eagle kreativ Deutschland GmbH |
| Kippers BV | Design Objectives Ltd. | West Design Products Ltd. |
| Eulenspiegel Profi-Schminkfarben | Havo B.V. | H. Schmincke & Co. GmbH & Co KG |
| Hahnemühle FineArt GmbH | Marabu GmbH & Co KG | C. Kreul GmbH & Co KG |
| Max Bringmann KG | JOVI S.A. | Frechverlag GmbH |
| Max Sauer S.A.S. | Tudi Billo OHG | Aladine S.A.S. |
| efco creative GmbH | Pentacolor Textil-Es Vegyipari | Daler-Rowney Ltd |
| F.I.L.A. S.p.A. | Buntpapierfabrik Ludwig Bähr GmbH & Co.KG | Christophorus Verlag GmbH & Co.KG |
| Painting Velvet di Lamperti Franco | Posthumus Deelnemingen 2 S.A. | Magnani 1404 S.r.l. |
| Pieraccini Riccardo | Lion Office Products Corp. | Mosaikstein GmbH |
| F.M. Brush Co, Inc. | UAB "Daily Art" | Acrylicos Vallejo S.L. |
| Vallejo S.L. | Feurer & Sohn GmbH | Speedball Art Products Company |
| Childhood Supply ApS | Art Material International | Abralux Colori Beghe'srl |
| Trends International | Find it Traiding | Axus Office |
| Sinclair & Sons | Carioca S.P.A. | Histar International |
| Nara Factory Co., Ltd. | Printindo Mega Utama, PT | AEC Offshore Trading Pvt Ltd. |
| Zwajomi B.V. | Chance Line Industrial Co., Ltd. | AMC AG Division Global Notes |
| Studio Light B.V. | Distribuidora Universal S.A. | Jaurena S.A. |
| Hemptique – Tmi Inc. | Hunkydory Group Limited | Pukaca Lda. |
| Claritystamp Ltd. | Screnery Aer & Craft Co., Ltd. | Jina Paper Studio |
| TEB Barcelona SCCL | Shanghai Fortune Stationary Co., Ltd. | C2F, Inc. |
| Acrilex Tintas Especiais S/A | Turan Boya San ve Tic Ltd Sti | A. Haussmann GmbH |
| Hero Arts | Elisabeth Craft Designs | Contact Crafts LLC |
| Tombow Pen & Pencil GmbH | Shachihata Europe Ltd. | Avenir Deutschland GmbH |
| Quantum Art Ltd | Viva Decor GmbH Creative Colour Company | i-Silicone Co., Ltd |
| Kamoi Kakoshi Co., Ltd. | Craft Buddy Ltd. | Tonic Studios Ltd. |
| Cis Marble S.r.l. | Nishikawa Communications Co., Ltd. | Lisans Kirtasiye Ofis Gerecleri |
| Juya Crafts Co., Ltd. | Jong le Nara Co., Ltd. | A Little Shop Sasu |
| Jacquard Products/ Rupert ,Gibbon | Kum GmbH & Co KG | Ningbo Johnshen Stationary Co Ltd. |
| Produxworld & Spider Inc. |   |   |
Background information
Information on the Kinderbüro Frankfurt:
The Frankfurter Kinderbüro is a lobby for all children in our city.
Since 1991, the team, as a communal interest group with a wide variety of projects and events, has focused on the questions, concerns, suggestions and ideas of Frankfurt children and their families.
Their remit is as diverse as children's life itself: in all places where children's interests are affected, they are supported and encouraged in a quick and unbureaucratic way to stand up for their interests.
www.frankfurter-kinderbuero.de
Creativeworld
Creativeworld is the world's leading trade fair for the international hobby, handicrafts and artists' requisites sector. In 2018, a total of 336 exhibitors from 39 countries made presentations to 9,266 trade visitors. At Creativeworld, exhibitors show their latest products, techniques and materials for decorative crafts, graphic and artists' requisites, handicrafts, textile design and creative hobbies. And, as a trend and business platform, the trade fair is the first important venue of the business year. Creativeworld is the ideal order platform for the wholesale, retail and specialist trades, DIY markets, garden centres, the internet and mail-order trades. With its multi-faceted complementary programme of events, Creativeworld is a source of new ideas, inspiration and expert knowledge.
Additional information and images at creativeworld.messefrankfurt.com
Background information on Messe Frankfurt
Messe Frankfurt is the world's largest trade fair, congress and event organiser with its own exhibition grounds. With over 2,500 employees at some 30 locations, the company generates annual sales of around €661* million. Thanks to its far-reaching ties with the relevant sectors and to its international sales network, the Group looks after the business interests of its customers effectively. A comprehensive range of services – both onsite and online – ensures that customers worldwide enjoy consistently high quality and flexibility when planning, organising and running their events. The wide range of services includes renting exhibition grounds, trade fair construction and marketing, personnel and food services.
With its headquarters in Frankfurt am Main, the company is owned by the City of Frankfurt (60 percent) and the State of Hesse (40 percent). * preliminary figures for 2017
For more information, please visit our website at:
www.messefrankfurt.com  |  www.congressfrankfurt.de  |  www.festhalle.de
Margit Herberth, Director of Consumer Marketing and Communication, Messe Frankfurt, Madeleine Michaelis, Project Leader, Frankfurter Kinderbüro, and Michael Reichhold, Creativeworld Director, Messe Frankfurt, at the distribution of donations in the Frankfurter Kinderbüro storeroom.