In the quest for things to make homes unique, stylish and warm, the trade visitors to Creativeworld, at the end of January, discovered both new materials and new techniques. One thriving trend is for craftwork involving yarns and fabrics. For creative designs using textiles, the trade fair's national and international exhibitors had a whole raft of new and innovative techniques, as well as some traditional ones: screen printing, punch-needle embroidery, macramé and wall decoration using thick yarn. Moreover, you can happily add pompoms and tassels to decorate this kind of thing. Fimo, for example, is sewn with large stitches into pen & pencil holders and various accessories. Linoleum, which many people remember as a hard and not easily worked material, can now be cut as easily as an eraser and used as a printing pattern for fabrics, T-shirts and bags.
Sustainability is also reflected in some of the most popular motifs
Nature and sustainability play an important role: this includes, for instance, simple-to-use colouring materials made from natural colourants, sustainably produced products, such as papier mâché moulded from recycled newspapers, palettes from waterproof cardboard and eco-certified highlighter pens. Fitting in with this is another motif to be found amongst the trends – the monstera plant (also known as the window-leaf plant). The plant's striking silhouette recurs as a motif for textile prints, on stickers and stamps or on sew-on appliques. In combination with other green plants and cacti, the monstera leaf brings a breath of nature into any and every home.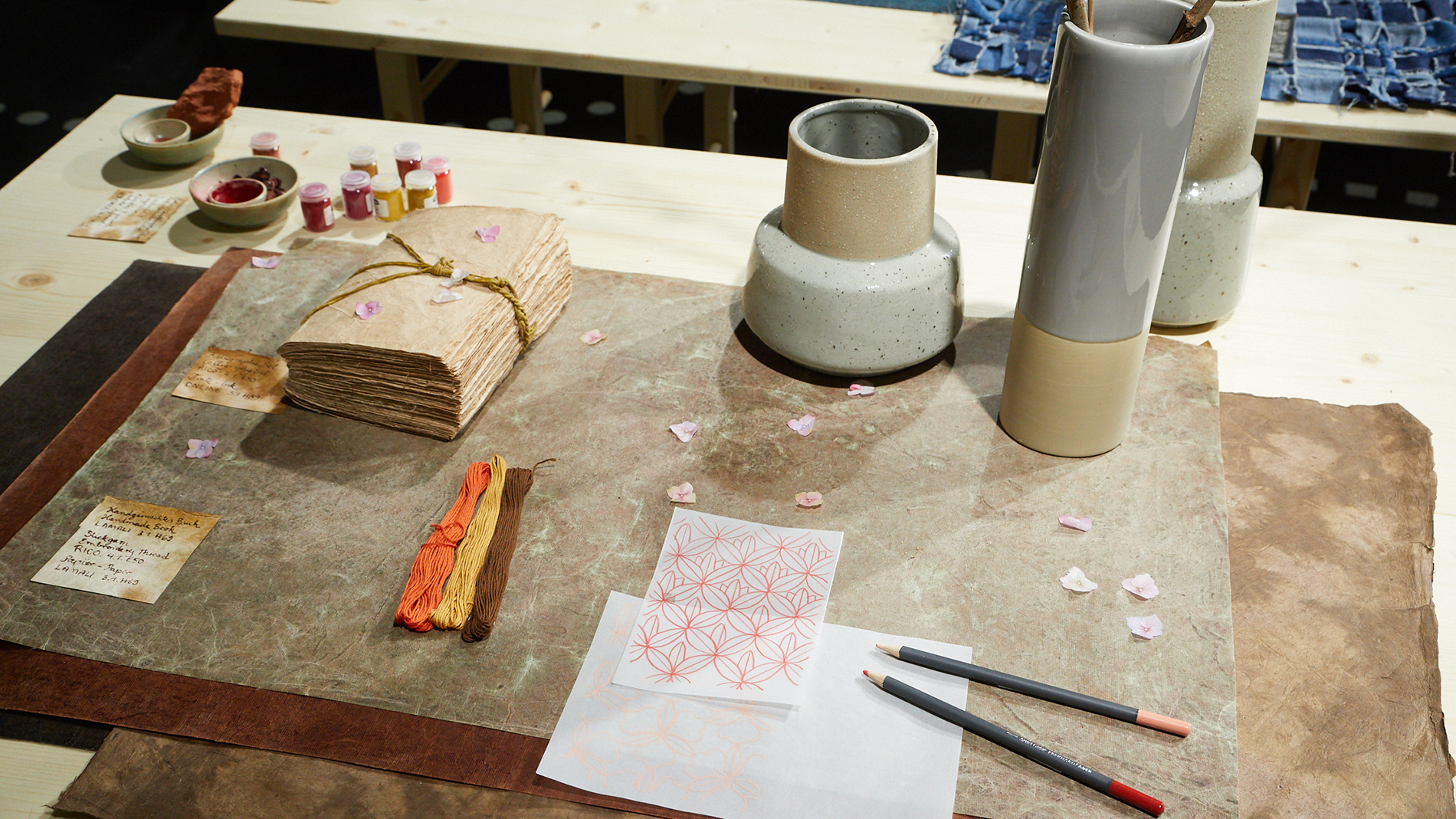 Personalisation is a top theme
The trend for personalisation is particularly strong. As ever, hand-lettering remains the number one creative technique: written on paper and porcelain with brushes and crayons, on glass with chalk paints, or created with drawing-gum masking markers on water-colour paintings. Particularly popular, too, is the use of handy little soldering irons to add personalised decoration to wood and leather. There is hardly anything that cannot be lovingly embellished with a little message, to be given as a gift or used in the home.
And another form of calligraphy has established itself alongside hand-lettering: street art is a topic that everyone is currently talking about and, for some time now, has no longer been merely reserved for the younger generation. This trendy 'architecture in letters' has made its way from the street into the living room. Acrylic markers and water brush pens are, then, just as much of a self-evident part of the graffiti trend as are spray paints in all colours, from classic shades to neon colours and metallic paints with a mirrored effect.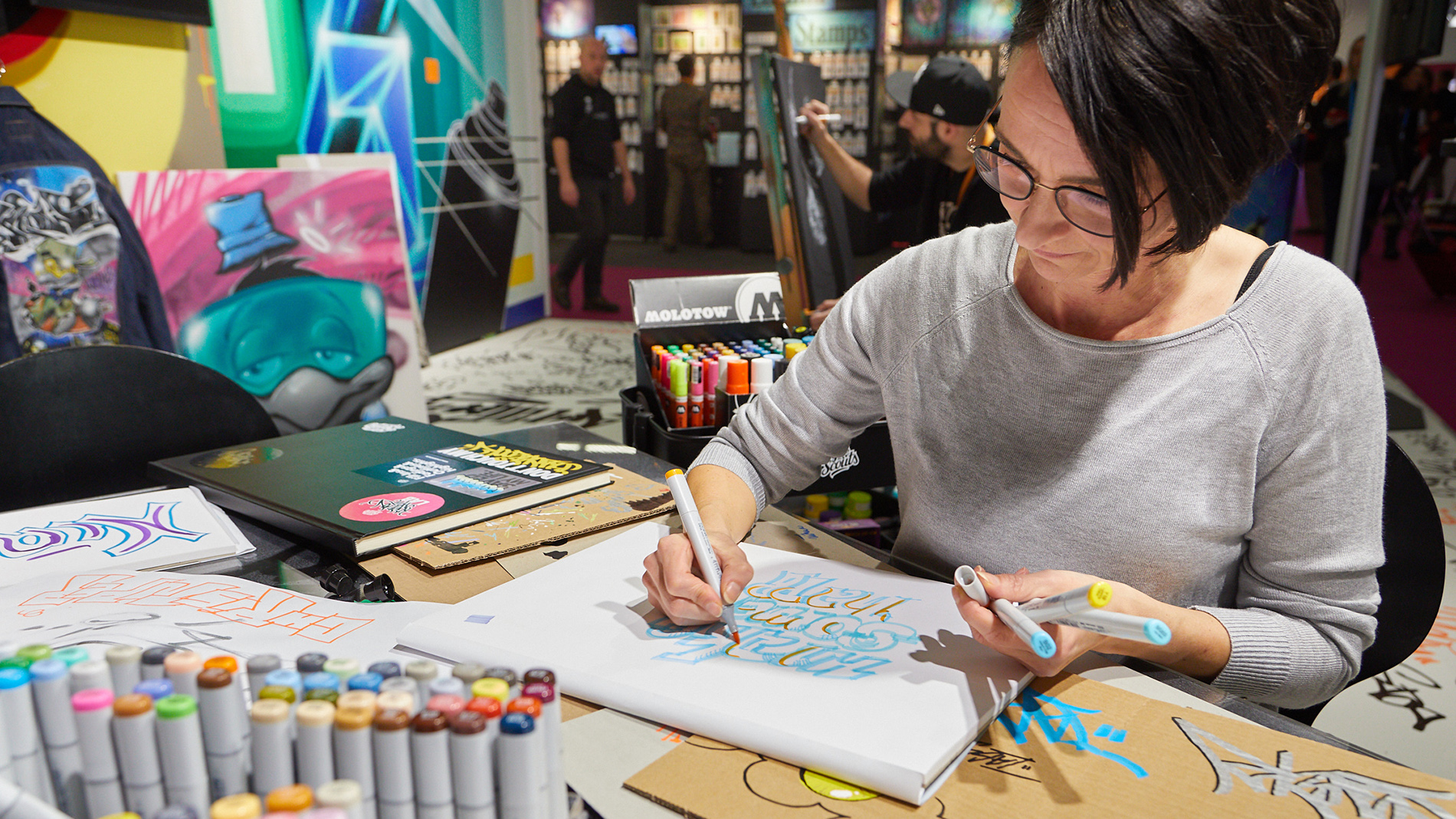 Acrylic pouring lends colours a voice
Acrylic pouring is a colourful affair too. We are talking here of the currently most popular form of acrylic pouring technique, that of mixing acrylic paints in a pot with another medium and then pouring it over a surface, creating endless possibilities for an interplay of colour. The resulting marbled effect is reminiscent of pop art on the one hand and mineral stone on the other.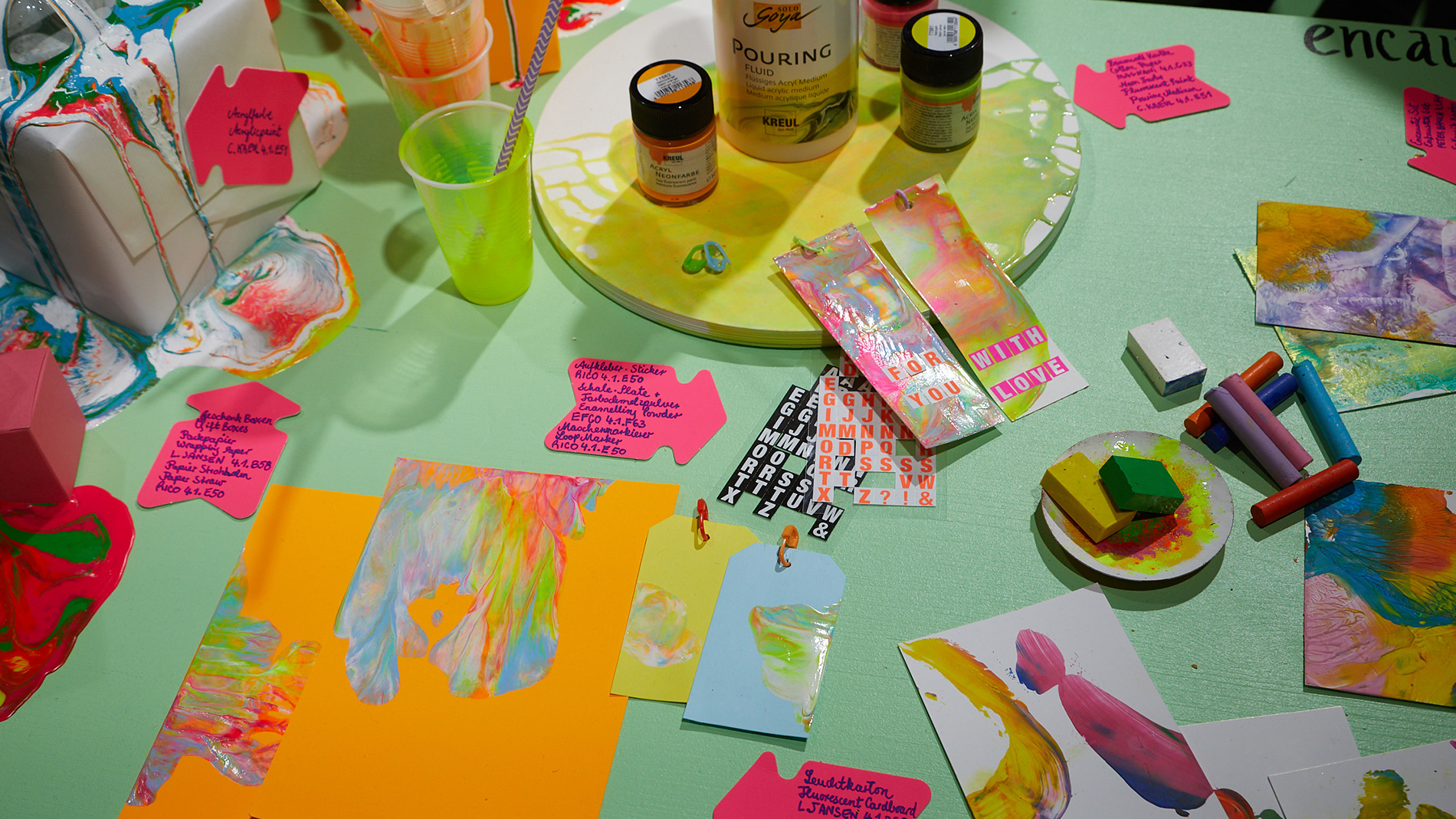 The colours for 2019: shimmering, earthy and neon
From water colours to decorative paints, the trend is for shimmering colour tones. They develop their effect to the full on a dark background, shifting from purple hues to shades of green and blue, depending on the way the light falls. New additions include subdued earthy tones as well – from ochre, sepia and terracotta to moss green, which creates warmth and a natural feel, reminiscent, when used for drawing, of the old masters. Delicate pastel shades continue to enjoy popularity. They are used, for instance, to personalise accessories in the home, often happily combined with neon or copper accents. And they are high on the list, too, when it comes to chalk-based paints to decorate windows and tables. The pantone colour for 2019 is Living Coral (16 – 1546).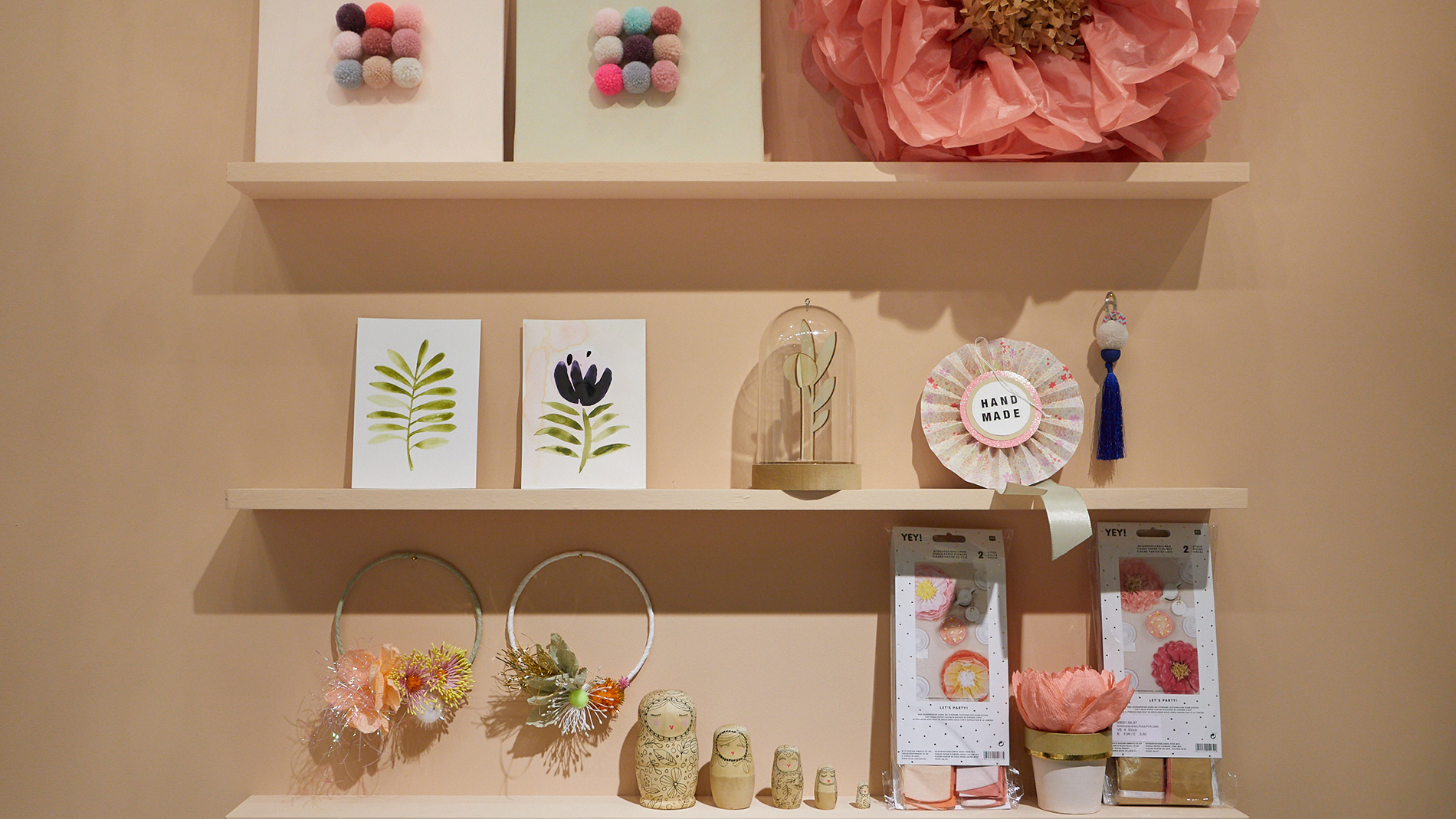 Colours are a big issue at the Creative Impulse Awards 2019
The winners of the 2019 Creative Impulse Award showed just how important colours are. It was 'myboshi favourite colours' that won the award in the 'Product of the Year' category. With them, dyeing wool with natural dyes becomes child's play.
And anyone who would like to create their own colours to paint with can do so with the 'Kremer pigment recipe book", the 2019 winner in the 'Creative Book of the Year' category. The 37 recipes from pigment specialists Kremer offer an opportunity to make up paints in a sustainable way and to suit your own individual requirements.
The next Creativeworld will be held from 25 to 28 January 2020.
Note for journalists:
Further information, together with photographic and video material can be found at: creativeworld.messefrankfurt.com/press
The Creativeworld blog will keep you up to speed with the DIY and MIY scene throughout the year: www.creativeworld-blog.com
You can also follow us on Facebook.

Creativeworld
Creativeworld is the world's leading trade fair for the international hobby, handicrafts and artists' requisites sector. In 2019, a total of 362 exhibitors from 44 countries made presentations to 9,152 trade visitors*. At Creativeworld, exhibitors show their latest products, techniques and materials for decorative crafts, graphic and artists' requisites, handicrafts, textile design and creative hobbies. And, as a trend and business platform, the trade fair is the first important venue of the business year. Creativeworld is the ideal order platform for the wholesale, retail and specialist trades, DIY markets, garden centres, the internet and mail-order trades. With its multi-faceted complementary programme of events, Creativeworld is a source of new ideas, inspiration and expert knowledge
* before final FKM verification
Background information on Messe Frankfurt
Messe Frankfurt is the world's largest trade fair, congress and event organiser with its own exhibition grounds. With over 2,500* employees at 30 locations, the company generates annual sales of around €715* million. Thanks to its far-reaching ties with the relevant sectors and to its international sales network, the Group looks after the business interests of its customers effectively. A comprehensive range of services – both onsite and online – ensures that customers worldwide enjoy consistently high quality and flexibility when planning, organising and running their events. The wide range of services includes renting exhibition grounds, trade fair construction and marketing, personnel and food services.
With its headquarters in Frankfurt am Main, the company is owned by the City of Frankfurt (60 percent) and the State of Hesse (40 percent).
Further information is available at: www.messefrankfurt.com
* provisional figures 2018